Basic Online Nerve Ultrasound course
You will form a solid basis for your nerve ultrasound career. This course covers the most frequently requested bigger nerves, which you can assess easily and reliably when starting with this diagnostic tool.
Learning objectives
After completing the course you will be able to perform examinations of the most frequently requested nerves, i.e. the median, ulnar, radial, peroneal, tibial and sural nerves and diagnose the most frequently encountered pathologies with focus on compression syndromes, traumatic nerve lesions and inflammatory nerve disease. You will be able to discuss the advantages and limitations of ultrasound as well as complementary electrodiagnostic studies.
Teaching method
Online course with videos, audios and animated slides for active engagement.
CME certification
16 AMA PRA Category 1 CreditsTM
Plus:
Your free workbook to print and take notes
Forum for discussing your questions with us
Print your certificate
Regular rate € 549 
(including 20% tax)
Modules
Median nerve, ulnar nerve, radial nerve, peroneal nerve, tibial nerve and sural nerve.
Each module contains the following chapters:
Anatomy
A focused journey on the nerve´s course with emphasis on the topographic surroundings as well as motor and sensory innervation territories.
Clinical findings
Being able to securely assign symptoms to a specific nerve is a key skill for a nerve sonographer. Difficult? Not if you know what to look for and where to look for it. Done in 30 seconds.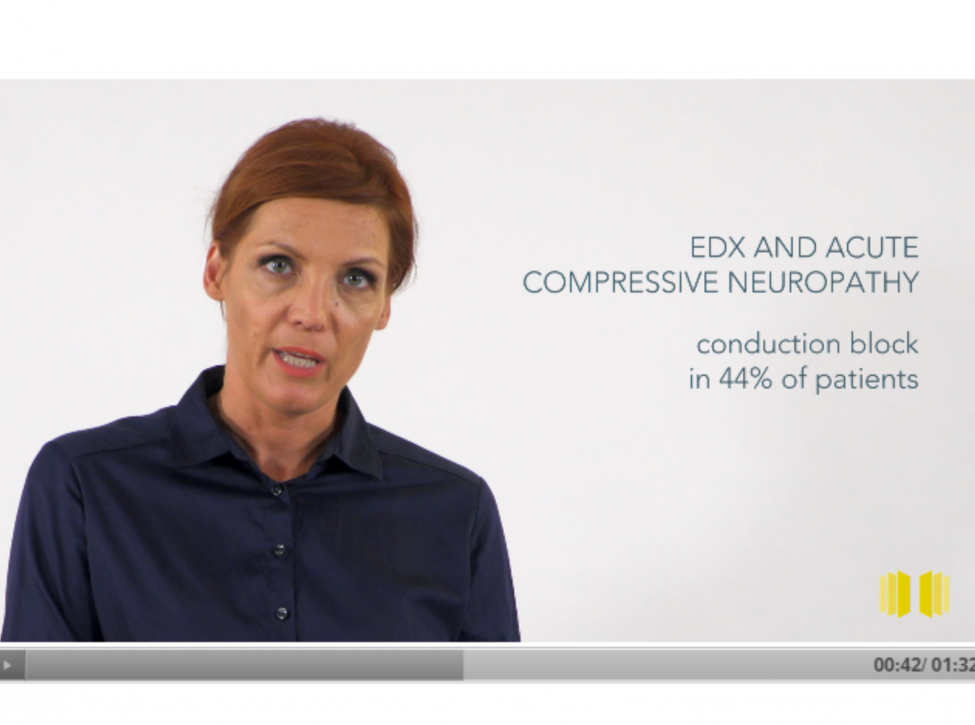 Electrodiagnostics
The complementary examinations to nerve ultrasound. Inevitably you will be confronted with nerve conduction studies and needle electromyography (EMG). Understand the strengths and weaknesses in the examination of each nerve and use this knowledge to your advantage.
Ultrasound
Our star presented to you by one of our experts. Select the best point to start, get the landmarks and enjoy a demonstration of the whole course accessible. Then achieve perfection with our legendary nerve sliders.
Cases
You have mastered normal ultrasound anatomy? Perfect. Then you are ready to see the difference in the diseased nerve. We have prepared cases that present a broad variety of nerve pathologies.
Get insights into compression and inflammatory neuropathies, nerve tumors and nerve trauma as well as musculoskeletal differential diagnosis.
Among the topics:
Ulnar neuropathy at the elbow, Tarsal tunnel syndrome, peroneal neuropathy at the fibular head, grading of nerve trauma with ultrasound, the schwannoma, tenosynovitis
Two additional remarks
This course does not cover the small branches like digital nerves or the distal course of the deep branch of the ulnar nerve, because according to our experience this would only make sense for the more experienced sonographer. The small branches will be topics of an advanced course.
We are working interdisciplinary, teaching MDs with different specializations and intend to establish a solid level of knowledge in all interested colleagues. As a neurologist you will already be familiar with details of clinical examination while as a radiologist you will be familiar with topographic details. Be aware that part of the content might just be a reminder for you.
What you may expect
Investing five minutes of training into the symptoms of nerve damage and the most frequent syndromes of each nerve
What you may not expect
A detailed in-depth education in clinical and electrophysiologic issues equaling a neurologic specialization training
Nerve ultrasound is a quickly evolving field with important news being published every month.
Let us save your time resources and do the scanning of news for you.
We pack the hottest news into a quarterly newsletter that we deliver to you.
Sign up for the newsletter