​
Dear colleagues,
Today we would like to direct your attention to the second revision of the
European Academy of Neurology/Peripheral Nerve Society guideline for diagnosis and treatment of chronic inflammatory polyradiculoneuropathy
It was  published in 2021 and includes some important news concerning neuromuscular ultrasound.
Some major adjustments were made, but from our side the most important change is that NMUS was added as a supportive criterion.
This signifies that you are able to upgrade your diagnosis in typical CIDP and its variants by help of ultrasound and (in most of the cases) one of the other supportive criteria.
Besides the fact that this further strengthens the role of NMUS in our daily routine, we would like to discuss the details of using NMUS for diagnosing CIDP here, because we have been repeatedly consulted by colleagues live and online about the wording in it.
The guideline says:
…
The task force suggested the use of ultrasound in adult patients to diagnose CIDP in patients fulfilling diagnostic criteria for possible CIDP but not for CIDP. The diagnosis of CIDP may be more likely if there is nerve enlargement* of at least two sites in proximal median nerve segments and/or the brachial plexus.
Nerve enlargement is defined as:
* Cross-sectional area median nerve > 10 mm2 at forearm, >13mm2 upper arm, >9 mm2 interscalene (trunks), >12 mm2 for nerve roots.
The trouble here is caused by the term "interscalene trunks". When most of us talk about trunks, we think of the upper, middle and lower trunks. These are formed by the cervical roots: the upper one by C5 and C6, the middle one by C7 and the lower one by C8 and Th1.  For these trunks, 9 mm2 would be rather small – which is obviously also the daily experience of the colleagues who have contacted us.
These cut-off values stem from  Goedee et al.[1] and if you look at the articles of this group, which describe the technique [2], you will see that they refer to the continuation of the C5, C6 and C7 root between the anterior and middle scalene muscle as trunks.This point of measurement is proximal to the formation of the upper trunk out of C5 and C6 – which typically has a larger CSA than 9 mm2 also in healthy controls.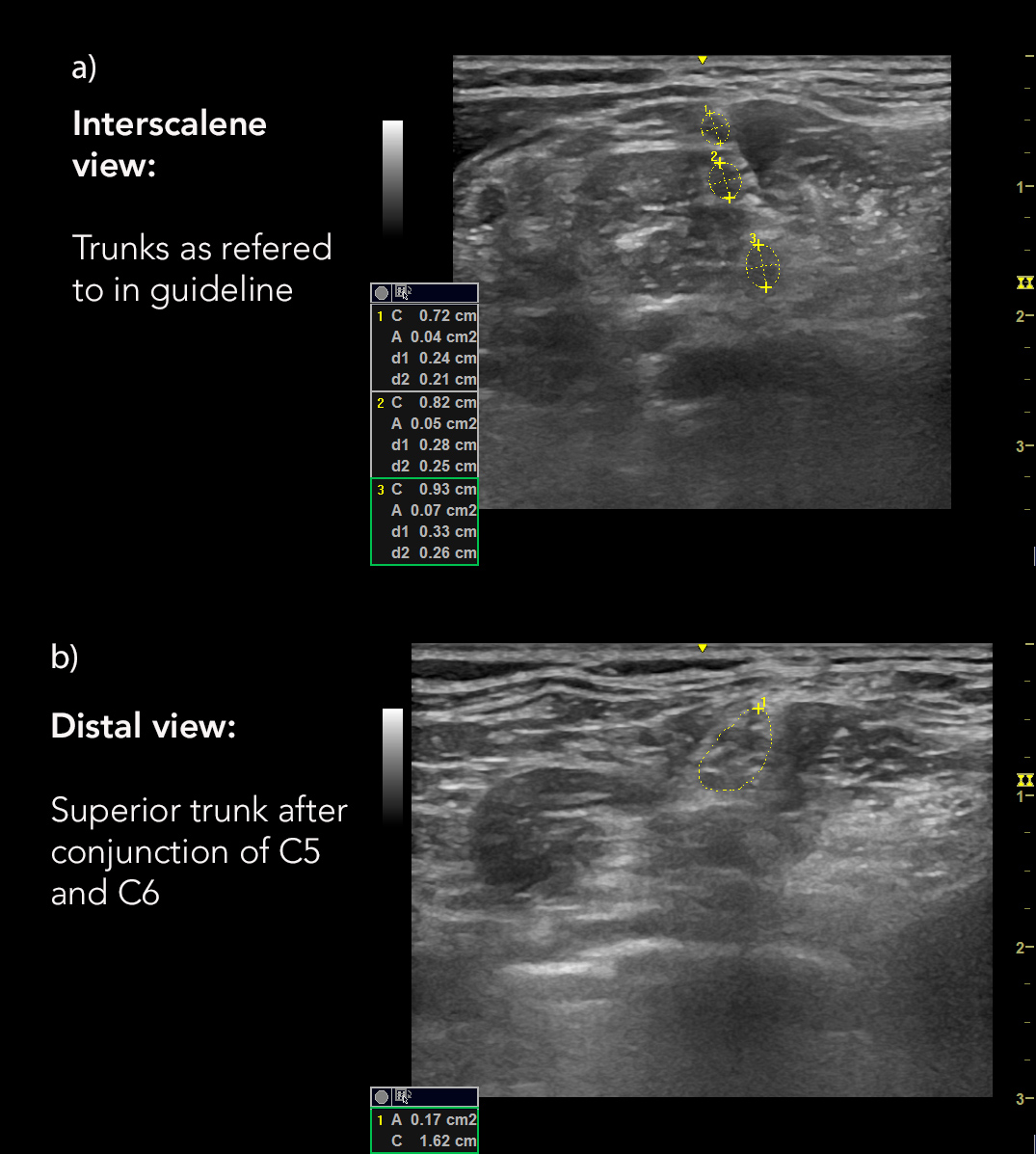 Figure 1:
a) Transverse interscalene view of the brachial plexus, showing continuations of the C5, C6 and C7 roots (measurements), which are well within the upper limits normal of the guideline with C5=4 mm2, C6= 5 mm and C7=7 mm2)
b) Transverse view of the brachial plexus after exiting the interscalene space, with C5 and C6 co-joining to the upper trunk (measurement). The CSA of the upper trunk is 17 mm2 and would exceed the upper limit normal of the guideline.
We hope we have been able to clarify this misunderstanding. Now go ahead and make ultrasound your favorite supportive criterion for CIPD diagnosis!
Best regards,
Your Sonocampus Team
For full text of the guidelines:
References:
1. Goedee S. et al. Diagnostic value of sonography in treatment-naive chronic inflammatory neuropathies. Neurology 2017; 88: 143-51
2. Goedee S. et al. Distinctive patterns of sonographic nerve enlargement in Charcot-Marie-Tooth type 1A and hereditary neuropathy with pressure palsy. Clin Neurophysiology 2015; 126:1413-20
WANT TO MAKE SURE YOU NEVER MISS A POST AGAIN?