An isolated neuritis after COVID-vaccination? 
A 40 year old patient complains about pain on the dorsal foot. It started about half a year ago, that if he crossed his feet, there was a point at the lateral ankle, which would provoke a shooting pain on the dorsal foot. In the beginning, this only happened occasionally. He then received his first vaccination for COVID -which made the pain exacerbate. Not only it got much worse when touching that point, with pain persisting over minutes after applying pressure, but there were also spontaneous pain attacks. These got less after eight weeks – which is a point at which you are seeing the patient.
There is no sensory or motor deficit, but a positive Tinel´s sign at a point over the lateral malleolus, with something like a palpable strand between skin and bone.
Nerve conduction study of the superficial peroneal nerve is unremarkable.
You take out the probe and see the following (please note: the point of the positive Tinel´s sign was the one where the video starts):
Left lateral malleolus. Going proximal, following a terminal branch of the superficial peroneal nerve.
Now what do we see?
At the point of the positive tinel´s, there is a short segement swelling of a branch of the superficial peroneal nerve.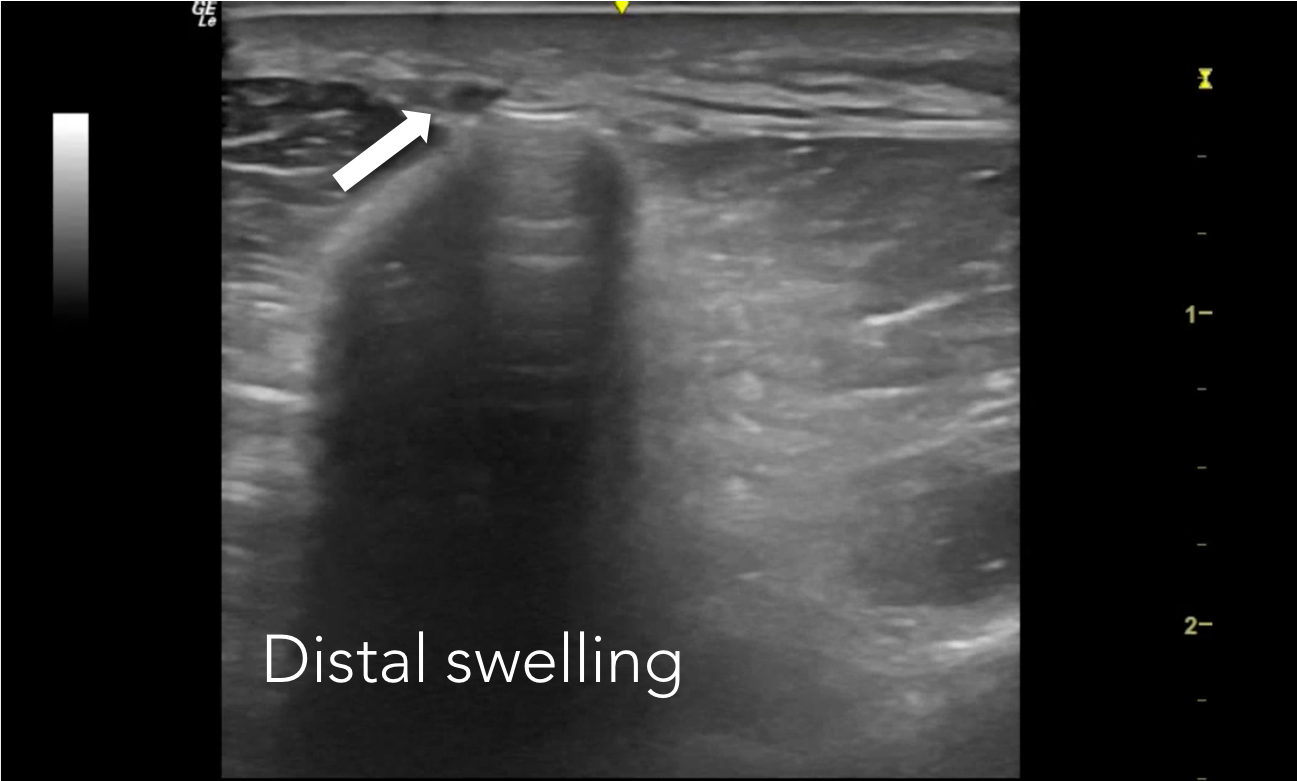 Seeing this, I would have classified the problem as caused by outer compression of the nerve.
However, as we go proximally, we suddenly see swelling of one, an then swelling of the other fascicle of this part of the nerve….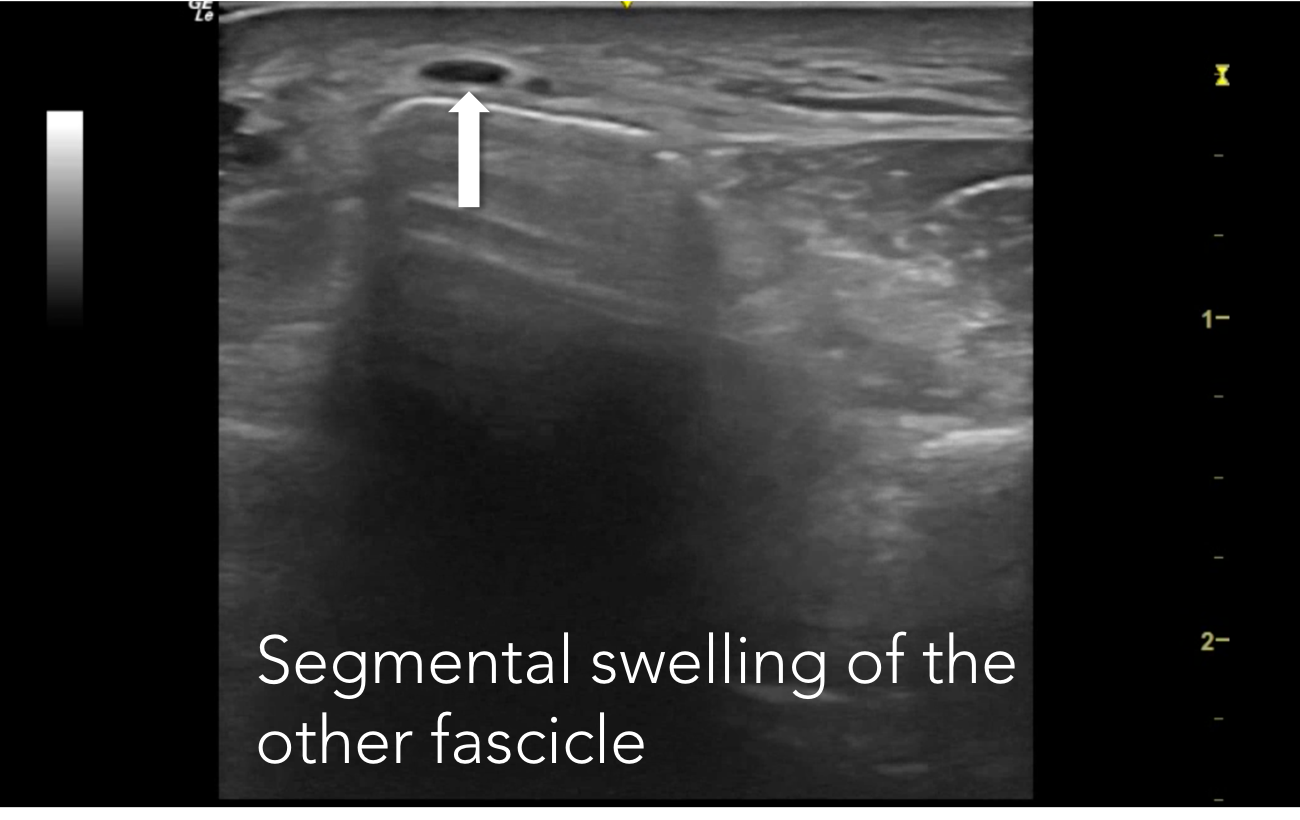 Longitudinal view (without any detectable vascularization):
Now this is open for discussion from our side – what do we see: compression neuropathy? Chronic mechanical stress? Neuritis?
Our interpretation was that there was some kind of heightened vulnerability in this nerve, which got challenged because of the vaccination. We are aware of the incidence of Guillain-Barre syndrome as a complication of COVID infection1-5 and there are also known cases of GBS after vaccination6-10. Further, there is also one published case of neuralgic amyotrophy in the course of COVID11-16 and also after vaccination17-19. But so far, we did not find any reports on a possible isolated neuritis associated with the vaccination?
Well, vaccination is challenging the immune system and a known risk factor for Neuralgic Amyotrophy.
We are looking forward to your ideas. How would you interpret this case?
And if you wanna dive deeper into the topic:
Literature:
1Makhluf and Madany. Pathogens 2021; 24 (10): 931
2O.Loughlin et al. Neurol Int 2021; 13(3):410-27
3Luijten et al. Brain 2021 Sept 23, online ahead of print
4Randhawa et al. Cureus 2021; 13 (9): e17945
5Huth et al. Front Neurol 2021; 12: 664599
6Min et al. J Neuroimmunology 2021; 359: 577691
7Rosetti et al. J Emerg Med 2021 Aug 7, online ahead of print
8Matarneh et al. Clin Cas Rep 2021; 9(9): e04756
9Prasad et al. Neuro Int; 13(4):404-9
10Hughes et al. Liver Transpl 2021 Aug 24, epub ahead of print
11Alvarado et al. Neurologia 2021; 36(7): 568-71
12Coll et al. Joint Bone Spine 2021; 88(5):105196
13Mahajan et al. Muscle Nerve 2021; 64(1)E3-4
14Ismail et al. Neurol Sci 2021; 42(6): 2161-65
15Mitry et al Clin Imaging 2021; 72:8-10
16Siepmann et al. Muscle Nerve 2020; 64(4): E68-70
17Koh et al. QJM 2021 Aug 4: hcab2016, online ahead of print
18Crespo Burillo et al. Neurologia 2021; 36(7):571
19Diaz-Segarra et al. PM R 2021 April